Since 1977, the Governor's Safety & Health Conference has awarded more than $176,850 in scholarships to students in occupational safety at five Iowa colleges. This year, up to $10,500 in scholarships will be awarded by the Iowa Occupational Safety and Health Advisory Council and presented at the conference to exceptional college students in the state of Iowa.
Jack Beno Memorial Scholarship Fund
When Jack Beno, age 60, lost a long battle with cancer in 1997, the safety world lost a truly inspirational leader. His ideas, guidance, and tenacity contributed greatly to the many successes of the Iowa Governor's Safety Conference and to the importance of workplace safety and health throughout Iowa.
Jack was appointed to the Occupational Safety and Health Advisory Council in 1979 after accepting a position at Iowa State University. Jack's former students continually speak of the profound impact he had on their education and life experiences, and will never forget him or the lessons they learned.
2023 Scholarship Recipients
In 2023, the Governor's Safety & Health Conference awarded $10,500 in scholarships to the following Iowa students: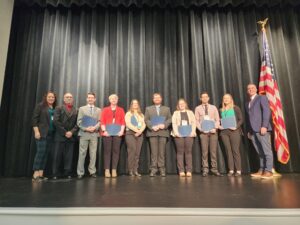 Jack Beno Scholarship
Emily Huber, University of Iowa
Bill Dickinson Scholarship
Ernesto Mendez, University of Iowa
Iowa Occupational Safety and Health Advisory Council Scholarships
Elizabeth Foster- University of Iowa
Elijah Bowman, Iowa State University
Sierra Virden, University of Iowa
Holly Rowland, University of Iowa
Alexander Barnett, University of Iowa
Zachary Wiggins, Iowa State University
Anna Proctor, University of Iowa
2023 IOSHAC Scholarship Program – Application w Cover Letter